Travel and Accessibility
Maximizing your independence with independent living, home safety and accessibility and travel
Maximizing Your Safety and Accessibility
For adults and children access into and around your home is important. Easy access means that our younger and older clients can enjoy being in their home and that caregivers are taking care of their bodies and health too.
Choosing and installing the right accessibility equipment is a big decision. It can also make a big different to how clients can be independent in their home space.
Access needs change as kids get bigger or if there are health changes in our younger and older clients.
Ask us about equipment and products for home accessibility to promote safety, independence and caregiver support for mobilizing their loved ones.
Ramps
Easy access into your home is important both for you and for your caregivers. There are permanent and temporary solutions for home accessibility. Whether you need something small to have access over a threshold, need to span a few steps with a short ramp, or whether you need to obtain or build a more extensive ramp we can provide advice to clients.
In Alberta the provincial government has an assistance program to support low-income families who need to modify their home to improve access. To see if you qualify and learn what to do visit the Residential Access Modification Program (RAMP) website.
Porch Lifts
A porch lift can make access easy when there is limited space around your home or in your garage. Although we do not offer this product service, we are able to draw from our knowledge and experience to provide advice and answer your questions.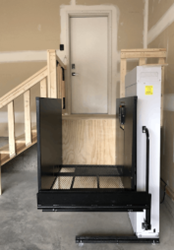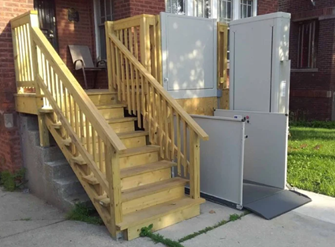 Stair Lifts
When you have mobility limitations but want to stay put in your home, stairs can be a challenge. A stairlift may be a possible solution for you and your loved ones and there are many combinations of access products and ways to navigate your stairs. Although we do not offer this product service, we are able to draw from our knowledge and experience to provide advice and answer questions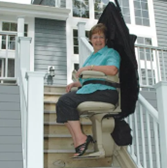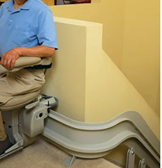 Lift and Slings
Mechanical lifts are devices used to assist with transfers and movement of people who require support for mobility beyond the physical support provided by family and caregivers alone. These products include floor lifts, sit-stand lifts, and ceiling track lift systems. Some products are funded by provincial agencies. Call us for a consult. We can take a look at the places where care support is needed and recommend the best product for your space and physical needs. Slings are used together with a lift to cradle a person so that they can be transferred safely and comfortably. Slings come in different shapes and sizes. We help our clients to make informed choices about slings by partnering with specialists like occupational or physiotherapists.
Rails and Bars
Sometimes a small addition of assistive equipment can make a big different to safety and confidence when getting around your home. We can come to your home and consult with you about the types of bar, rail or pole that can be installed to support standing, sitting transfers and activities of daily living. Our consults are often done alongside our community specialist partners such as Occupational and physiotherapist. Allow a little thing to get you on your way!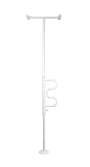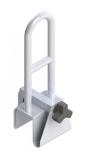 Maximizing Your Leisure and Travel
Young and old like a change of scenery and we all like to travel. Whether it's a road trip or a plane ride, there are products and accessories to help make that trip a little easier. From an everyday car seat for a special needs toddler to a comfortable transport chair to get to the airport, let us help you get on your way safely.
Transport Chairs
These lightweight folding chairs are great for short distances when you are traveling. They are usually pushed by a companion and have small wheels to keep the weight low for lifting and pushing.
Strollers
Special needs or medical strollers are available in a variety of sizes and range from quite simple to highly structured for children with more complex seating needs. Under seat storage is often a great feature of these chairs and allow medical equipment to be carried easily while you are enjoying your leisure activities.
Safety Restraints
In situations where you are traveling by commercial transportation your child may not fit the the seatbelts and restraints provided for general use. To add that extra piece of mind consider an adjustable transportation safety vest or a conversion vest.
Transit Tie Down Accessories
Tethering a wheelchair in a vehicle is a important part of the safe transportaion of your loved one.
There are lots of products commercially available. Tie downs are usually specific to the type vehicle they are to be used in. For example commercial transit vs. private vehicles. We do not carry these products but we are able to make recommendations of what you will need based on your wheelchair and vehicle.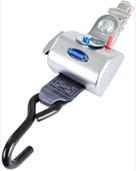 Car Seats
See our Pediatrics page